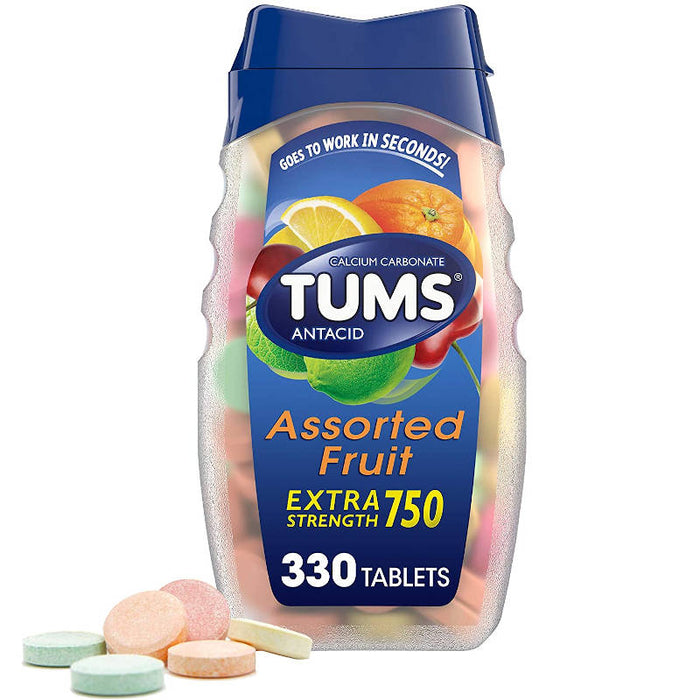 Tums Antacid Ultra Strength Heartburn Relief Tablets UK
Save

Liquid error (snippets/product-badge line 32): Computation results in '-Infinity'

%
Tums Ultra Strength 
Chewable 
Antacid Tablets for Heartburn And Acid Indigestion Relief UK
TUMS Ultra Strength Chewable Antacid Tablets go to work in seconds by starting to neutralize acid on contact to bring fast, ultra strength, chewable heartburn relief, with double the acid fighting power per tablet as TUMS Regular Strength. When symptoms occur, chew and swallow two to three ultra strength tablets, depending on the severity of your acid indigestion. Featuring the active ingredient calcium carbonate, these chewable antacids provide heartburn, acid indigestion and sour stomach relief, and upset stomach relief associated with these symptoms. Delicious and fast, these TUMS Assorted Fruit antacid tablets include a variety of tasty flavors. TUMS antacid tablets are the #1 recommended adult antacid brand by doctors, pharmacists and Ob-Gyns. As America's #1 antacid and trusted as a heartburn medicine for 90 years, TUMS is fully supported with a satisfaction guarantee. These heartburn and acid indigestion relief tablets are packaged in a compact, resealable bottle that's easy to stow for when heartburn strikes while you're out and about. Choose these 1000 mg antacid tablets for fast acting heartburn relief, at home or on the go.
Multi-symptom relief: Treats Burning in Chest, Acid Indigestion, Sour Stomach and upset stomach associated with these symptoms.

Trusted brand: America's #1 Antacid** providing trusted heartburn relief for 90 years.
TUMS goes to work in seconds by starting to neutralize acid on contact to bring fast and powerful heartburn relief.
Active ingredients come from nature. Extra Strength TUMS are both Kosher and gluten-free.
What are TUMS and how do they work ?
TUMS is an antacid used to relieve heartburn, sour stomach, acid indigestion, and upset stomach associated with these symptoms. Many other heartburn medications are absorbed into the bloodstream and can take hours or day to fully work. TUMS, with active ingredient Calcium Carbonate, travels directly to the source of the heartburn.

TUMS starts to neutralize the heartburn-causing acid in your stomach on contact which provides fast relief for your tough heartburn.
Can you take TUMS while pregnant ?
If you experience heartburn during pregnancy, there are treatments your doctor can prescribe or recommend. TUMS is effective for occasional heartburn and TUMS is the #1 OB/GYN recommended brand of antacid.*
The maximum daily dosage for Extra Strength is 6 tablets in 24 hours and for Ultra Strength is 5 tablets in 24 hours. Ask your doctor if TUMS and other options are appropriate for you.
Do TUMS contain gluten or dairy ?
All TUMS products have been gluten tested and meet the guidelines for "gluten free." TUMS Regular Strength, Extra Strength, Ultra Strength, Sugar-Free and TUMS Smoothies are all dairy free. TUMS Chewy Delights contain dairy and TUMS Chewy Bites are manufactured at a plant that contains dairy.
Ingredients
adipic acid, corn starch, FD&C blue #1 lake, FD&C red #40 lake, FD&C yellow #5 (tartrazine) lake, FD&C yellow #6 lake, flavors, mineral oil, sodium polyphosphate, sucrose, talc
Directions
 If you are under 18 years of age, ask a doctor before use