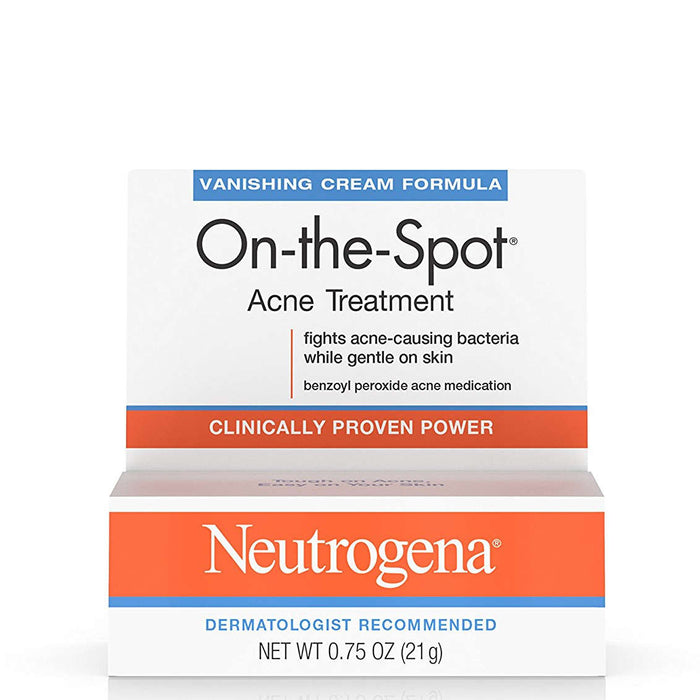 Neutrogena OntheSpot Acne Treatment, Vanishing Formula, 0.75 Ounce UK
Neutrogena OntheSpot Acne Treatment, Vanishing Formula, 0.75 Ounce
Achieve beautiful, clear skin with Neutrogena Vanishing Cream On-the-Spot Acne Treatment. With its MicroClear formula, it's clinically proven to unclog congested pores and speed treatment deep to the source. The special formula also eliminates oil and shine using an advanced oil-dissolving complex. Green tea and cucumber extracts actively refresh and soothe, leaving skin less red and irritated. This Neutrogena On-the-Spot treatment, .75 oz, also helps prevent breakouts by reducing future oil clogs and treating acne before it emerges.
Neutrogena Vanishing Cream Formula On-The-Spot .75 oz:
Treats acne even before it emerges with MicrCoClear
MicroClear is clinically proven to unclog congested pores and speed treatment deep to the source
Eliminates oil and shine with an advanced oil-dissolving complex
Helps prevent future oil clogs in pores
Refreshes and soothes with green tea and cucumber extracts
Actively reduces redness and irritation
Dermatologist recommended Neutrogena acne treatment
Indications:
Health Concern: Breakouts and Acne
Skin Care Concern: Breakouts & Acne
Warning:
For External Use Only. Do Not Use If You Have Very Sensitive Skin Or Are Sensitive to Benzoyl Peroxide. Ask A Doctor Or Pharmacist Before Use If You Are Using Other Topical Acne Medications At The Same Time Or Immediately Following Use of This Product. Th
Ingredients:
Inactive Ingredients: Water, bentonite, caprylic/capric triglyceride, glycerin, emulsifying wax nf, polysorbate 20, glyceryl laurate, cetyl dimethicone, magnesium aluminum silicate, xanthan gum, sodium citrate, disodium edta, citric acid, methylparaben, propylaraben.
Ingredients: Active: Benzoyl Peroxide 2.5%: Acne Treatment. Inactive: Water, Bentonite, Caprylic/Capric Triglyceride, Glycerin, Emulsifying Wax Nf, Polysorbate 20, Glyceryl Laurate, Cetyl Dimethicone, Magnesium Aluminum Silicate, Xanthan Gum, Sodium Citrate, Disodium
Active Ingredients: Benzoyl peroxide 2.5%
Directions:
Instructions: Cleanse The Skin Thoroughly Before Applying Medication. Apply On-The-Spot Directly On Acne Pimples. Because Excessive Drying of The Skin May Occur, Start With One Application Daily, Then Gradually Increase to Two Or Three Times Daily If Needed Or As Direc;Cleanse the skin thoroughly before applying medication. Apply on-the- spot directly on acne pimples. Because excessive drying of the skin may occur, start with one application daily, then gradually increase to two or three times daily if needed or as directed by a doctor if bothersome dryness or peeling occurs, reduce application to once a day or every other day.