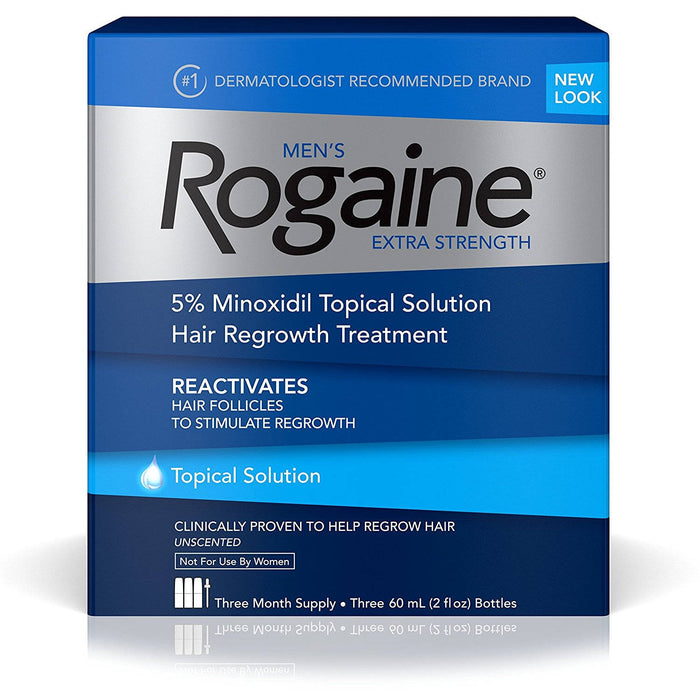 Men's Rogaine Extra Strength 5% Minoxidil Topical Solution for Hair Loss and Hair Regrowth, Topical Treatment for Thinning Hair, 3-Month Supply UK
Men's Rogaine Extra Strength 5% Minoxidil Topical Solution for Hair Loss and Hair Regrowth, Topical Treatment for Thinning Hair, 3-Month Supply
3-month supply of Men's Rogaine Extra Strength 5% Minoxidil Topical Solution to help treat hair loss, maintain hair density and allow for the regrowth of fuller hair

Formulated with 5% Minoxidil, our fast-working, extra strength hair regrowth treatment works to boost hair follicle activity and hair protein production and is clinically proven to regrow up to 25% more hair

Unlike hair loss shampoos and hair thickening products that temporarily plump hair from the outside, our men's hair growth treatment penetrates the scalp to reactivate shrunken hair follicles, allowing for regrowth of hair

From the #1 dermatologist-recommended brand, this extra strength anti-hair loss topical solution is ideal for use at the early stages of hair thinning and helps maintain hair density

Men's hair growth treatment delivers clinically visible results in as little as 12 weeks and comes in an easy-to-apply topical solution, specially designed to fit into your daily routine
Use Rogaine Solution When You Notice Hair Thinning For Fuller, Thicker Hair
Revives shrunken hair follicles and helps maintain hair density over time

FDA-approved formula with 5% Minoxidil - the maximum available without prescription

No topical solution works faster to help regrow fuller hair
Help hair loss and regrow fuller hair with Men's Rogaine Extra Strength 5% Minoxidil Topical Solution. Ideal for use at the early stages of hair thinning, this fast-working hair regrowth treatment is clinically proven to regrow up to 25% more hair. Unlike hair loss shampoos and hair thickening products that temporarily plump hair from the outside, Rogaine penetrates the scalp to reactivate shrunken hair follicles, allowing for regrowth of hair. The extra strength 5% Minoxidil formula works to boost hair follicle activity and hair protein production, helping to maintain hair density. This hair thinning treatment comes in a topical solution that is easy to use: Simply apply 1 milliliter directly to your scalp twice daily and massage it through your hair. Like all Rogaine products, it is designed to fit easily into your routine. Store at controlled room temperature 20 to 25 degree celsius.
Men's ROGAINE Extra Strength Topical Solution--It May Be Right for You
Men's ROGAINE Extra Strength Topical Solution is clinically proven to regrow hair in men. To get the most out of ROGAINE Extra Strength Solution, it's important to apply it directly to your scalp--twice a day, every day.
What Causes Hair Loss in Men?
Although there are several causes of hair loss, male-pattern baldness (also referred to as androgenetic alopecia or hereditary hair loss) accounts for about 95% of hair loss in men. It is usually triggered by a combination of hormonal activity and heredity, which together cause the hair follicles in your scalp to shrink.
Over time, the progressive shrinking of certain scalp follicles leads to a shortening of the hair's growing cycle. Hair becomes thinner and shorter, until there is no growth at all. The active ingredient in ROGAINE--minoxidil--reinvigorates shrunken hair follicles, which increases their size and helps regrow thicker looking hair over time.
A Pioneer in Hair Regrowth
Like many great discoveries, the power of minoxidil to regrow hair came about by chance. In the 1980s, scientists discovered that minoxidil, being studied for other indications, actually showed signs of regrowing hair.
ROGAINE applied this discovery to produce the first topical brand approved by the FDA to regrow hair. Minoxidil is the only over-the-counter ingredient FDA approved to regrow hair. Since the discovery, ROGAINE has empowered millions of people to take control of their hair loss with a series of breakthroughs.
About ROGAINE: A History of Results and Innovation
ROGAINE is the first topical brand approved by the FDA to regrow hair--in both men and women. With more than 20 years of results and over 20,000 people in clinical trials, ROGAINE is the #1 dermatologist-recommended brand for hair regrowth. ROGAINE helps reverse the progression of hereditary hair loss.
What's in the Box
Men's ROGAINE Extra Strength Unscented Topical Solution (2-Ounce Bottles, Pack of 3).
Men's ROGAINE Extra Strength Topical Solution
At a Glance:
Helps reverse the progression of hereditary hair loss

The #1 dermatologist-recommended brand for hair regrowth; available without a prescription

Apply directly to your scalp--twice a day,
every day
Safety Warning
For external use only. For use by men only.
Flammable: Keep away from fire or flame
Do not use if

you are a woman
your amount of hair loss is different than that shown on the side of carton or your hair loss is on the front of the scalp. 5% minoxidil topical solution is not intended for frontal baldness or receding hairline.
you have no family history of hair loss
your hair loss is sudden and/or patchy
you do not know the reason for your hair loss
you are under 18 years of age. Do not use on babies and children.
your scalp is red, inflamed, infected, irritated, or painful
you use other medicines on the scalp
Ask a doctor before use if you have heart disease
When using this product

do not apply on other parts of the body
avoid contact with the eyes. In case of accidental contact, rinse eyes with large amounts of cool tap water.
some people have experienced changes in hair color and/or texture
it takes time to regrow hair. Results may occur at 2 months with twice a day usage. For some men, you may need to use this product for at least 4 months before you see results.
the amount of hair regrowth is different for each person. This product will not work for all men.
Stop use and ask a doctor if

chest pain, rapid heartbeat, faintness, or dizziness occurs
sudden, unexplained weight gain occurs your hands or feet swell
scalp irritation or redness occurs
unwanted facial hair growth occurs
you do not see hair regrowth in 4 months May be harmful if used when pregnant or breast-feeding.
Keep out of reach of children. If swallowed, get medical help or contact a Poison Control Center right away.


Indications
to regrow hair on the top of the scalp


Ingredients
Active Ingredient:Minoxidil 5% w/v (Hair regrowth treatment for men).Inactive Ingredients: alcohol, propylene glycol, purified water.


Directions
Apply one mL with dropper 2 times a day directly onto the scalp in the hair loss area. Using more or more often will not improve results. Continued use is necessary to increase and keep your hair regrowth, or hair loss will begin again.