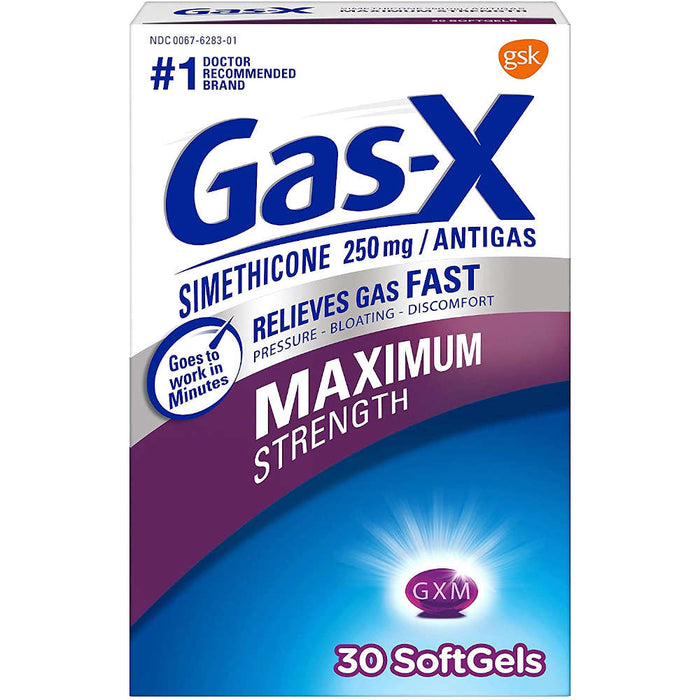 Gas-X Maximum Strength Softgels, 30 Count
Gas-X Maximum Strength Simethicone Medicine for Fast Gas Relief Softgels, 30 Count
Gas-X Maximum Strength Gas Relief Softgels with Simethicone 250 mg deliver fast relief of gas pressure, bloating and discomfort. These maximum strength simethicone gas relief softgels go to work in minutes, rescuing you from embarrassing situations and helping you get back to feeling like yourself. Gas-X uses 250 mg simethicone to break up gas bubbles in your stomach and intestines. Once this trapped gas is broken down, your body can deal with the gas naturally. These fast gas relief pills come in convenient softgels, making them portable and easy to swallow. Adults and children 12 years of age and older may take one or two simethicone 250 mg softgels as needed, not to exceed two softgels in 24 hours unless directed by a doctor. Trust Gas-X, the number 1 doctor recommended OTC anti-gas product.(1) (1) ProVoice Survey fielded from March 1, 2020 to February 28, 2021, and recording recommendations for OTC Anti-Gas products
One 30 count package of Gas-X Maximum Strength Gas Relief Softgels with Simethicone 250 mg
Gas-X simethicone softgels provide fast gas and bloating relief
Gas-X antigas goes to work in minutes to provide bloating and gas relief, rescuing you from embarrassing situations and helping feel like yourself
Contains 250 mg of simethicone—the highest dose available in any over-the-counter antigas pills
Simethicone 250 mg gas relief softgels are portable and easy to swallow
Gas-X is the number 1 doctor recommended OTC anti-gas product (1)
Adults and children 12 years of age and older may take one or two simethicone gas relief softgels as needed, not to exceed two softgels in 24 hours
How does Gas-X relieve gas?
Gas-X works with your body to help relieve gas. Gas-X uses simethicone – the #1 doctor recommended ingredient for fast gas relief (among OTC brands)* – to break up gas bubbles in your stomach and intestines. Once this trapped gas is broken down, your body can then deal with the gas naturally.
Can I take Gas-X?
Yes. Simethicone, the active ingredient in Gas-X, works fast in your GI tract without being absorbed into the bloodstream. It's an anti-foaming agent that is taken orally to help reduce the buildup of intestinal and stomach gases that cause bloating and discomfort. Still, please use Gas-X products only as directed.
How fast will I feel better?
Everyone's biochemistry is a little different, so speed of gas relief will vary by person. But in general, Gas-X works in minutes. If you have prolonged discomfort though, it's best to consult with your doctor, just in case.
Directions:
Adults: Swallow with water, 1 or 2 softgels as needed; after meals and at bedtime. Do not exceed 2 softgels in 24 hours except under the advice and supervision of a physician.
Ingredients:
Inactive Ingredients: D&C red no 33 FD&C blue no 1 gelatin glycerin lecithin purified water titanium dioxide
Active Ingredients: (in each softgel) Simethicone 250 mg - Antigas; Inactive Ingredients: D&C red no. 33, FD&C blue no. 1, gelatin, glycerin, lecithin, purified water, titanium dioxide.
Active Ingredient Name: Simethicone