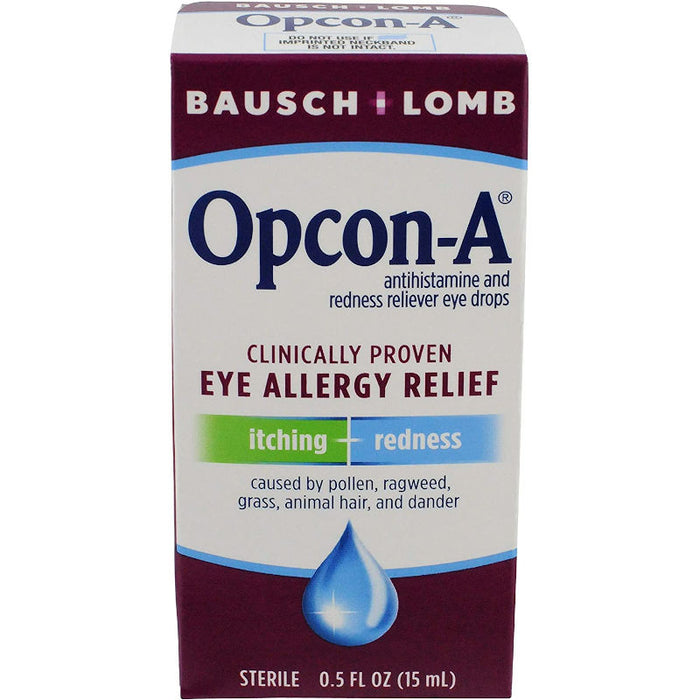 Bausch & Lomb Opcon-A Allergy, Redness Reliever Antihistamine Eye Drops, 0.5 oz UK
Bausch & Lomb Opcon-A Eye Allergy Relief Drops, 0.5 oz

Opcon-A(R) Antihistamine and Redness Reliever Eye Drops combine an antihistamine for itch relief with a redness reliever. Available without a prescription, Opcon-A(R) eye drops temporarily relieve the itching and redness caused by pollen, ragweed, grass, animal hair, and dander. They can be used up to four times a day.
OPCON-A EYE DROPS: Help relieve eye allergy symptoms, caused by pollen, ragweed, dander, animal hair, & grass, with Opcon-A eye drops which combine an antihistamine for itch relief with a redness reliever.
EYE DROPS FOR ALLERGY RELIEF: Opcon-A eye drops are clinically proven eye allergy relief & help temporarily relieve the redness, itching, & watering caused by airborne allergens like ragweed or grass*
DO YOU SUFFER FROM EYE ALLERGIES? If you have eye allergy symptoms, then you know how uncomfortable itching, watering eyes caused by pollen, animal hair, dander, or other airborne allergens can be.
WHAT CAUSES EYE REDNESS? Generally, your natural tears keep your eyes looking healthy but fatigue, dryness, allergies, & contact lenses are a few causes of red eyes (unrelated to pink eye or infections).
BAUSCH + LOMB EYE CARE EXPERTS: Since John Bausch opened an optical goods store In 1853, Bausch + Lomb has focused on innovation and quality in eye care products, from contact lenses to eye drops.
Ingredients
Active Ingredients
- Naphazoline HCI (0.02675%)
- Pheniramine maleate (0.315%)
Inactive Ingredients
Benzalkonium chloride, boric acid, edetate disodium, hypromellose, purified water, sodium borate, sodium chloride. Hydrochloric acid may be used to adjust pH.
Directions
Adults and children 6 years of age and older
Instill 1 or 2 drops in the affected eye(s) up to 4 times daily.
Children under 6 years : Ask a doctor
Keep out of reach of children. If swallowed, get medical help or contact a Poison Control Center right away. Accidental oral ingestion in infants and children may lead to coma and marked reduction in body temperature.
Other Information
- store at room temperature 20°-25°C (68°-77°F)
- Protect from light
- use before expiration date marked on the carton or bottle
Warnings
Do not use :
- If you are sensitive to any ingredient in this product
- If solution changes color or becomes cloudy
Ask a doctor before use if you have :
- Heart disease
- High blood pressure
- Trouble urinating due to an enlarged prostate gland
- Narrow angle glaucoma
When using this product :
- Overuse may cause more eye redness
- Pupils may become enlarged temporarily
- Do not touch tip of container to eye or on any other surface to avoid contamination
- You may feel a brief tingling after putting drops in eye
- Replace cap after use
- Remove contact lenses before using
Stop use and ask a doctor if you experience :
- Eye pain
- Changes in vision
- Redness or irritation of the eye that worsens or lasts more than 72 hours